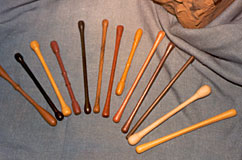 Also known as cipin and tippers, our beaters are made from a wide variety of hardwoods.
These woods are always sourced from an ecologically sympathetic supplier and each beater is hand turned by Eoin.
Because of the heavy nature of the timbers used, the majority of our beaters are of a slender shape rather than relying on bulk for weight.
We always stock a range of styles developed over the years but will also make custom beaters if we are sent a clear drawing showing the dimensions required.
The prices for these custom beaters are available on request.