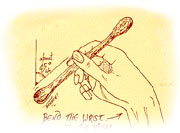 A beginner's guide to playing the bodhran on a poster measuring 610mm x 430mm.
Devised by Mark Shiner, the poster is an ideal learning device, containing information on topics such as how to hold your bodhran and tipper, starting to play, exercises, etiquette etc.
The poster costs £5.00 plus postage.


A small segment of the tuition poster explaining technique